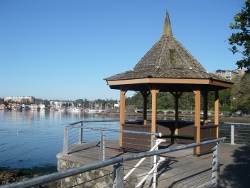 This scenic path starts at the Johnson Street Bridge and turns into the Westbay Walkway before it reaches the Westbay Marina 2.725 kilometres (1.7 miles) later. It winds along the Victoria Harbour and offers many opportunities to sit.
Dress in layers. Sometimes, when the wind hits you, it is cold, and then you go around a corner that is protected from the wind and it is hot.
The walkway derives its name from the Songhees Nation whose traditional land it crosses.
Signs posted along the walkway mark the distances between points and a dot on the map shows your current location.
Bicycles are not allowed on the path.