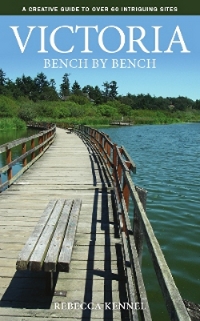 In Victoria—Bench by Bench, Rebecca Kennel takes you on her journey of discovery in and around spectacular Victoria, British Columbia. Visit historic sites and gardens; cemeteries and viewpoints; shipyards and restored creeks. Using pieces of local history and personal reflections, she introduces you to over 60 benches and inspires curiosity and creativity.
Whether you are here for a day, have lived here all your life, or wish you were here, this delightful guidebook will be a rich experience and you will gain a unique perspective of Victoria.
Includes: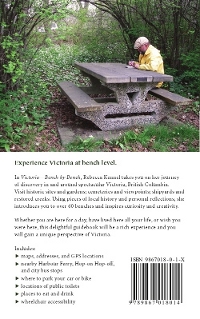 maps, addresses, and GPS locations
nearby Harbour Ferry, Hop-on Hop-off, and city bus stops
where to park your car or bike
locations of public toilets
places to eat and drink
wheelchair accessibility
Now available:
Victoria, British Columbia, Canada
Bolen Books, 111-1644 Hillside Ave
Cadboro Bay Books, 3840b Cadboro Bay Road
Crown Publications Bookstore, 563 Superior St.
Fairfield Book Shop, 247 Cook St.
Hemp & Co., 1102 Government St.
Hemp & Co., 422 Craigflower Rd.
Ivy's Bookshop, 2188 Oak Bay Avenue
Munro's Books, 1108 Government St.
Oceanside Gifts, Inner Harbour
Overleaf Cafe-Bookshop, 1105 Pandora Ave. (Medical Arts Bldg)
Royal BC Museum gift shop, 675 Belleville St.
Royal Jubilee Hospital Gift Shop, 1952 Bay Street
Russell Books, 934 Fort St.
Sorensen Books, 1027 Cook Street
Swan Lake Nature House, 3873 Swan Lake
UVic Bookstore, 3800 Finnerty Rd
Vancouver Island
Buckshot Books, 1254 Fair Rd., Errington, BC
Salish Sea Market, 6996 W. Island Hwy, Bowser, BC
Tanner's Books, 2436 Beacon Ave., Sidney, BC
Volume One Bookstore, 149 Kenneth St., Duncan, BC
Port Angeles, Washington, USA
MV Coho Ferry, Victoria to Port Angeles
Port Book and News, 104 E. First Street