What can you do when you are exhausted from dragging the kids through the museum, feel overwhelmed with the work you are doing, or are dropping from too much shopping? A spa might be nice, but what if you only have 30 minutes?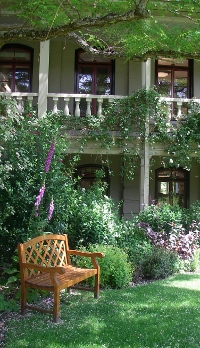 Right downtown, in the heart of all this activity, are lovely places to just sit. Allow yourself to feel the bench, your feet on the ground. Take a breath and straighten your spine. Take another breath and concentrate on what you see around you. Close your eyes and listen for the subtle sounds. Within minutes you will feel refreshed.
You have many options, from the quiet gardens at St. John the Divine or St. Ann's Academy, to the busy and fun Lower Causeway. From the "Old Burying Ground" to the colourful Market Square. Explore a bit and find the place that is right for you and learn a bit about the history of the place where you are sitting.